hydrated and popping
My hair is hydrated even after i clarify it - only thing is shipping to Minnesota took a little long for some reason.
natural hair loves
my natural hair drinks this stuff up - hope one day you make the 16oz sizes
soft hydration
My curls feel so soft even after I rinse it off. I think the key for me is leave it on for 5 mins as you shower
Soft curls
My hair feels so much softer. I hope you get it to some shelves here in the GTA :)
Detangling is less of a nightmare
I use this on my hair and my daughters hair - detangling used to be a nightmare lol. the slip in this is awesome. I mix it with a lil bit of your Conditioning Oil Blends - works the magic!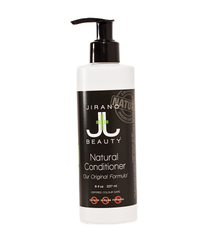 Natural Conditioner
- 8oz
$19.99