My 4C Hair is on Cloud 9
I LOVE this Definer! My stylist used it on me at the salon and I took two tubs home lol. My 4C hair is so defined!! She taught me the tips and tricks on how to define and stretch it and all she did was use this Definer and your Leave in!
My natural hair is in heaven
I got one bottle to star, I wish I had taken 2 because you know shipping lol! I immediately got to work raking my curls with this cream and Jirano, you have done it!!! I LOVE this sooo much I take it to my twist appointments lol. My daughters started stealing this product from me haha. I am grateful to have found out about you in Ottawa!
Curls are bouncy and not stiff
I was worried my hair would be stiff, but this is the product that does the opposite - my hair feels bouncy and soft!! I love this so much!!!
My hair is sculpted!
This curl defining cream is like a one-way ticket to the land of stunning natural hair. My curls are now living their best lives, and I'm just along for the fabulous ride! I love how it smells and the creamy texture is soooo good cause I use a bit of your Leave in Spray before I apply the definer!
I fully embraced my curls
I really embraced my natural hair this year. I love my 4C & 4B hair and this product is so WONDERFUL for my twists and my wash and go!!! A staple for me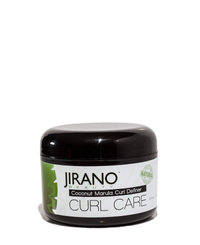 Coconut Marula Curl Definer
- 8oz
$19.99