Hair Feels Better
I am still using this twice a week. I still have a bit of hair fall, but I need to stay consistent. I am enjoying the product so far
Miracle in a Bottle
Legit a miracle for me at least! My hair went from being in a bit of a growth plateau, to growth! I massage my scalp with this oil in the morning and in the night usining the inversion method!!! I am back for my 7th bottle!
Amazing Product
I am of Indian background and stated noticing my hair thinning at the top! I panicked a little bit, but that stress sent me spiralling. A friend in the GTA recommended Jirano products, I bought this and the Detox Shampoo. I could cry telling you that the hair shedding has stopped while using the shampoo and this oil simultaneously! I feel that my scalp was experiencing some blockage! I am now focused on my nightly massages with this oil! Thank you for your amazing, wholesome products!
LOVE this stuff
OMG my hair drinks this stuff like juice! I love that my hair is growing sooo much - I massage this scalp of mine with your oil and I've started meditating while I massage my scalp. Honestly this oil is therapy! The smell is amazing!
My volume is back!!
My hair volume is back! Last year with the pandemic, my hair was thinning from stress and all types of random stress factors! This OIL!!! I Love Jirano products, but THIS oil is my holy grail! I found it via a hair stylist and now I'm HOOKED. Very light too and smells light and lovely! My favorite product!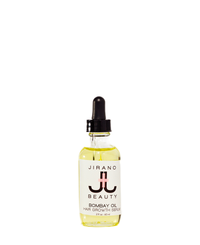 Bombay Hair Growth Serum
- 2oz
$25.99