Great for my hair
This conditioner works on my texturized hair. I wish my stylist stalked it so I can get it easier.
Super soft hair
I really love using this while in the shower then I put my micro fiber on. My hair is a type 4 texture! Then I diffuse it. I didn't think it would make a difference, but wow my hair loves it!!! This product is for the girls looking for moisture and battling frizz. I use the whole JIrano line so that may make the difference too in the way my hair looks and feels!
Curls popped!
The curls popped! I feel like this conditioner made my hair more curlier that it already was! It;s the hydration and moisture effect!
Bought this for my relaxed hair
I got my hair relaxed after 5 years of being natural! Lol! I just didn't have time for all the maintenance anymore - but my gosh, I am STILL using the Jirano Conditioner - a little goes a long way and my hair stays soft and hydrated! I discovered you guys at your Toronto Hair show a few years ago :)
Great slip for my natural hair!
I LOVE ths slip that this Jirano Conditioner gives me I leave it on for the rest of my shower and it's the last thing I rinse out - lemme tell you!!! Super soft natural hair even when dry! Only sad thing is, I can no longer get it in Montreal :(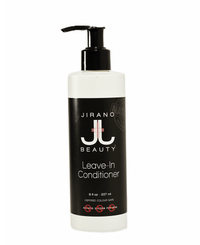 Leave-In Conditioner
- 8oz
$19.99