My holy grail shampoo
Seriously, my greasy roots were put in their place. Plus, my hair felt lighter than a feather. If you've got a love-hate thing with shampooing, this is your holy grail, trust me!
Happiness in a Bottle!
My hair went from meh to amazing! Seriously, the clean feeling and added volume have me dancing in my bathroom. lol. I need to restock before it sells out again.
Hair feels so Soft and Luscious
The charcoal goodness detoxifies like a champ, and I'm here for the soft, luscious results
Revived and Thriving!
Um, excuse me, but can we talk about this Charcoal Detox Shampoo? My hair was on the struggle bus – dull, greasy, ugh. But this shampoo? It revived my locks, seriously! It's like medicine for my scalp. My hair's thriving, and I'm living for it! On my 3rd bottle lol
Slay hair!!!
This Charcoal Detox Shampoo is some serious wizardry. My hair feels so clean, soft and ready to slay!! I have been using it on my relaxed hair and wow!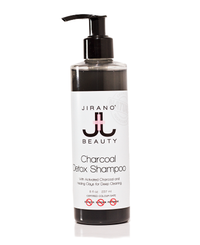 Charcoal Detox Shampoo
- 8oz
$24.99